European Medicines Agency is relocating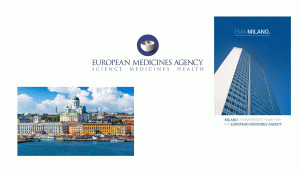 25.7.2017
A consequence of Brexit, the currently London-based European Medicines Agency (EMA) has to be relocated in 2019.  The Agency is the third biggest EU agency and it employs about 900 experts responsible for the scientific evaluation, supervision and safety of medicines in the EU. EMA has approximately an annual budget of 300 million €.
EU has received more than 20 city candidates for the new location of EMA, among which Helsinki and Milan. The candidates must present their dossiers by the end of July and the decision should be taken by Novembre 2017. Italy and Finland were competing for the EFSA location years ago. At that time Parma won over Helsinki. Let's see where EMA will be settled.
In Milan the EMA premises are planned to be located in the "Pirellone" building whish has previously been the head quarters of the Lombardy Region. Pharmaceutical industry is strong in Italy and also the medical research activities are widely spread. Milan is logistically well connected with 3 airport.
Helsinki can provide EMA a well-functioning infrastructure and high-level medical expertise. Finnish life science industry is world class. The top level education offering for the relocating families is probably one of the key advantages of the Finnish capital. From the Nordics also Copenhagen with it Medicon Valley has applied and is probably a strong in the competition.
Sources: