Finnish Food showcasing at the Be Nordic Lifestyle Event in Milan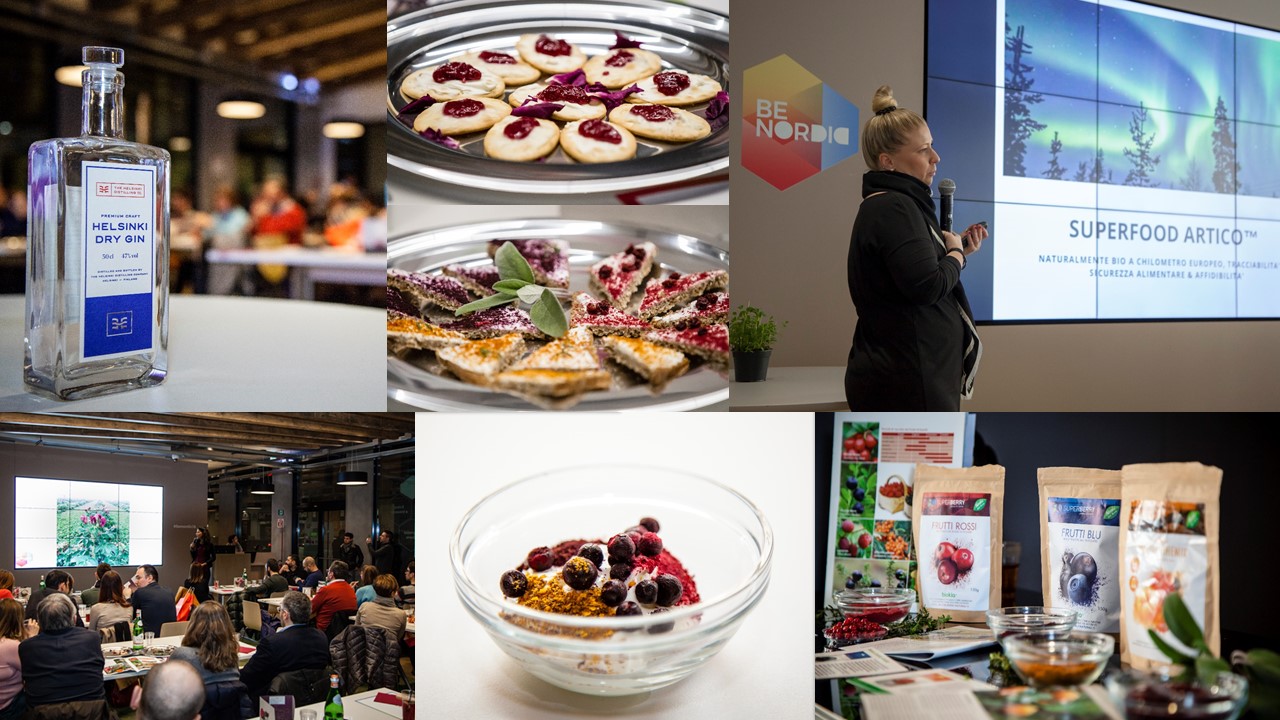 31.3.2018
Every March the Nordic Lifestyle event arrives punctually in Milan! Be Nordic was held this this year 23-25 March in a new and modern tech location Microsoft House gathering 4500 visitors. The weekend programme was filled with a seminar on Nordic architecture, live Skype sessions with Nordic destinations, travel story telling, hand-on workshops, kids laboratories and food tasting events and workshops. Finnish food was in a major role in the food programme with healthy and natural approach but also with surprising cocktail recipes. Visit Finland is the main Finnish organizer of the event and Finnica Consulting coordinated the Finnish Food partnerships for the event.
Helsinki Dry Gin was the main ingredient at the Aperitivo Artico where unusual cocktails recepies were created directly by the Helsinki Distilling Company cocktail specialist from Finland. The cocktails were twisted with Nordic lingonberries by Superberry and original rose petal ice cubes by Finnish Plant. The drinks were served with a rye bread finger food coloured with berry powders and rose petal confiture.
In the morning instead there was a full immersion in Finnish healthy superfood with Super Colazione by a Finnish online store PolarDeli. The breakfast serving has some new specialities like Finnish spruce sprout, birch leaf infusion and different berry powders etc. Also the Smoothie session was a success with delicious and colourful wild berry ingredients by Superberry. We learned a lot about the berries' health effects and how the Finnish midnight sun makes the Nordic berries so full of vitamins and antioxidants.
More information about Be Nordic: www.benordic.org